This partnership is exceptional both in terms of duration and scale. In 2019 alone, Meritor delivered more than one million axles, brakes, and drivetrains to the North American Daimler Truck market — on a high level of quality and always on schedule. With this result, Meritor accepted the coveted trophy as the Daimler Supplier Award winner in the quality category. How does long-term successful performance of this kind succeed?

Strong messages
Meritor states about itself to strive for excellence and commits itself to innovation and continuous improvement – just to mention some of their goals. While, in theory, it is an easy exercise to define these goals, what made Meritor stand out was its ability to successfully put them into practice. One reason for this is its global reach. Meritor has a worldwide network of engineering and manufacturing centers to serve customers quickly with a market-oriented approach driven by regional requirements. This basic structure is complemented by a commitment to quality.
Regardless of which product Meritor supplies, whether axles, brakes, drivetrains or electric products, they take the same global approach with quality management, striving to achieve zero defects.

In addition, Meritor provides consistent and on-time delivery for all quality requirements. In order to maintain this level of quality, Meritor has started to invest in quality management systems such as no fault forward. The key issue here is to detect errors in the production process at an early stage so that the end product is not affected. Supplemented by source inspections, which are designed to prevent repetitive errors, Meritor's goal is to never lose sight of quality.
" Meritor, in a peak 2019 North American market, you supplied Daimler with over 1.3 million axles, brakes and drivelines. All while supplying an incredibly good quality and Parts-Per-Million Rate! Well done! "


The future has already begun!
Daimler Trucks & Buses is strengthening and accelerating all efforts to expand its product portfolio of climate-neutral transportation solutions. This is a transformation process with large investments where equal partners are required. Meritor is one of the world's leading suppliers of drive, e-mobility, braking, and after-sales solutions for commercial vehicles, and a strong partner in the upcoming move towards commercial vehicle electrification. Meritor is not satisfied with its current products; rather they continue to invest into the future with e-axles, where engines and transmissions are integrated into the axles themselves.
Three questions for J.Caig & Chris Villavarayan, Meritor. 

Daimler Supplier Magazine Editorial Staff: An outstanding achievement that deserves our recognition: Congratulations to you and your teams on the Supplier Award from Global Procurement Trucks & Buses in the Quality category. We are proud to have a strong partner on our side whose quality benefits our products and customers. Three questions are of particular interest to us: 


How do you achieve such high quality over such a long period of time? 

J. Craig: We have an excellent global team that is focused on driving to a zero parts-per-million culture, and we are investing in no fault forward systems to ensure that we never take our eyes off quality.

Does electrification bring new quality challenges, and how will you tackle them? 

C. Villavarayan: As demand for commercial vehicle electrification accelerates, we are increasing our efforts to design, manufacture and go-to-market with a robust portfolio of technology and products.
We are also investing in the development of a complete family of complimentary e-axles, further expanding the application range.
We plan to manage quality with this product line as we do all others by developing strategies, analyzing data, maintaining a disciplined approach to quality, and encouraging employees at all levels to participate in the continuous improvement process.

What was the response of your team upon getting the award? 

J. Craig: Everyone at Meritor is proud of our long-term relationship with Daimler. Receiving this award was extremely exciting for our team and reinforces our commitment to producing the highest quality commercial vehicle products available on the market.

Thank you very much.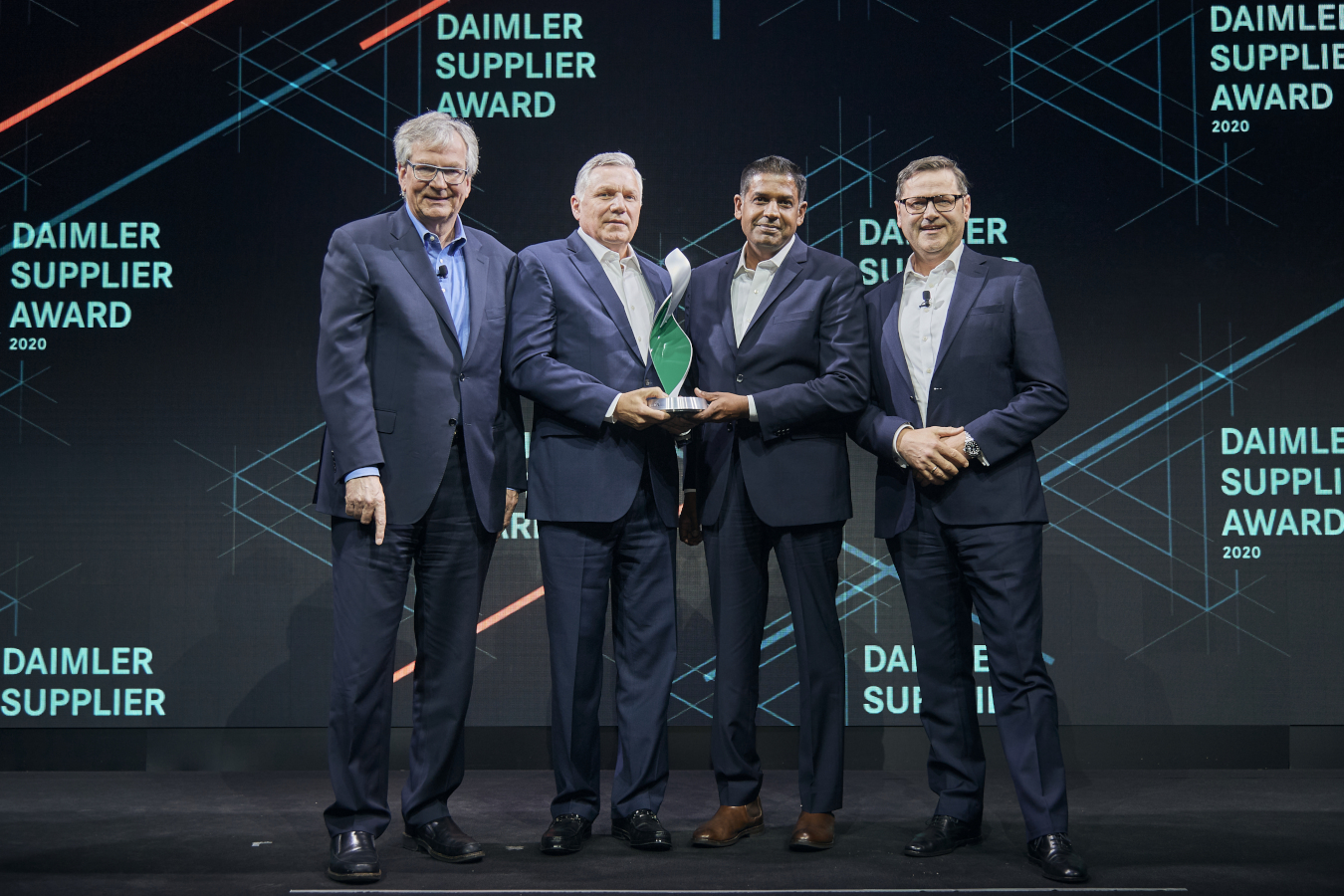 WINNER QUALITY (Trucks & Buses): MERITOR. Awarded for the supply of over one million axles, brakes and powertrains for the North American truck market. Martin Daum (Daimler Truck AG), Jeffrey Craig & Chris Villavarayan (Meritor), Marcus Schoenenberg (Daimler Truck AG). (This photo was taken at the Daimler Supplier Award 2020 on February 12, 2020, before the Covid-19 pandemic.)