A pioneering spirit has always set Mercedes-Benz apart: Just as more than 137 years ago – when the automobile was first invented – Mercedes-Benz continues to work on the future of mobility. The goal throughout these decades: to build the most world's most desirable cars. In order to deliver on this promise, close cooperation with suppliers is an important success factor. After all, the components they supply are ultimately essential parts of the vehicles, and this applies equally to software, displays and steering wheels as well as each individual screw. And in the same way, without suppliers there would be no machines and equipment, no production lines and no highly flexible sustainable plants in which the cars are manufactured.

There are three primary factors to look for whilst working with partners: In addition to Innovation and Quality, Sustainability is at the core of the corporate strategy and thus a key requirement of the supplier contracts. This is why, for example, Mercedes-Benz is working together with all suppliers to achieve the ambitious sustainability goals within the framework of "Ambition 2039" and successfully implement the transformation together. 

Creating the future together

That transformation is a major challenge not only for Mercedes-Benz but also for the suppliers - and it's not only the beginning of this profound change. That is why it is important for Mercedes-Benz to take the time to thank them partners whenever possible. That was exactly the order of the day on the evening of June, 19th at the Mercedes-Benz Customer Centre in Sindelfingen. Expressing the gratitude for the outstanding performance of suppliers and for working together in partnership in these persistently challenging times. Nearly 500 internal and external guests were part of the event. At the same time, the Mercedes-Benz Supplier Circle is much more than a mere gesture of appreciation. It also offered the supplier representatives the opportunity to find out about the strategic content of Mercedes-Benz and to personally exchange with the Mercedes-Benz management team on their successes, opportunities and challenges. 

Impulses were given in Exchange Circles with up to 150 guests on the topics of Innovation, Quality and Sustainability, and in smaller Exchange Circles with twelve supplier guests and top management representatives from Mercedes-Benz on the topics of powertrain, procurement, supply chains and vans. Also the board members Renata Jungo Brüngger, Markus Schäfer and Jörg Burzer were involved to answer questions from the suppliers.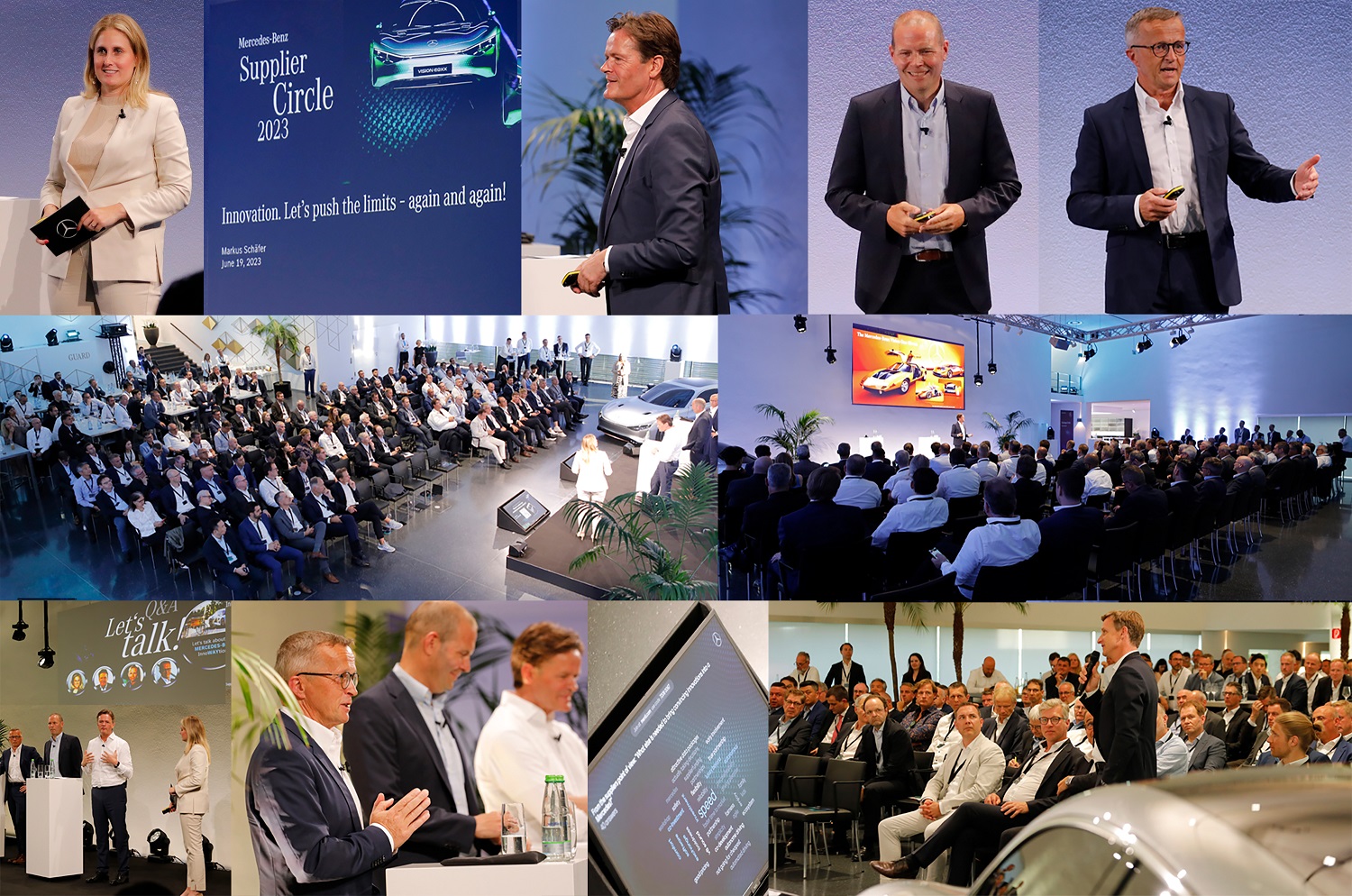 Exchange Circle Innovation with Eileen Böhme, Director Innovations & Future Technologies and Strategic Alignment R&D Mercedes-Benz AG and Markus Schäfer, Member of the Board of Management Mercedes-Benz Group AG, Chief Technology Officer Development & Procurement and Magnus Östberg, Chief Software Officer Mercedes-Benz AG and Thomas Hellmuth, Head of Body & Safety Mercedes-Benz AG (f.l.t.r.)

A traditional highlight for guests at the Supplier Circle is the presentation of the Supplier Awards in the categories Innovation, Quality and Sustainability: Gunnar Güthenke, Head of Mercedes-Benz Cars Procurement & Supplier Quality (MP) and Andreas Burkhart, Head of International Procurement Services (IPS) presented the awards to suppliers once again this year. This awards honor Mercedes-Benz's suppliers for outstanding performance and cooperation as partners.

A total of seven suppliers were delighted to receive the coveted trophies this year. In the Innovation category, two suppliers were honored for their remarkable innovations for MP. 

After the main program, guests had the opportunity to experience top-quality innovations in Mercedes-Benz vehicles. For example, the innovative new rear axle steering or the 3D sound Dolby Atmos. On top several vehicle presentations offered the partners the opportunity to experience their own products in Mercedes-Benz vehicles. For example the new E-Class, the GLC Coupé, the Mercedes-AMG S63E Performance, the GLS Maybach or an EQS equipped with DRIVE PILOT and the Sustaineer, innovation driver for urban mobility.

Supplier Award Innovation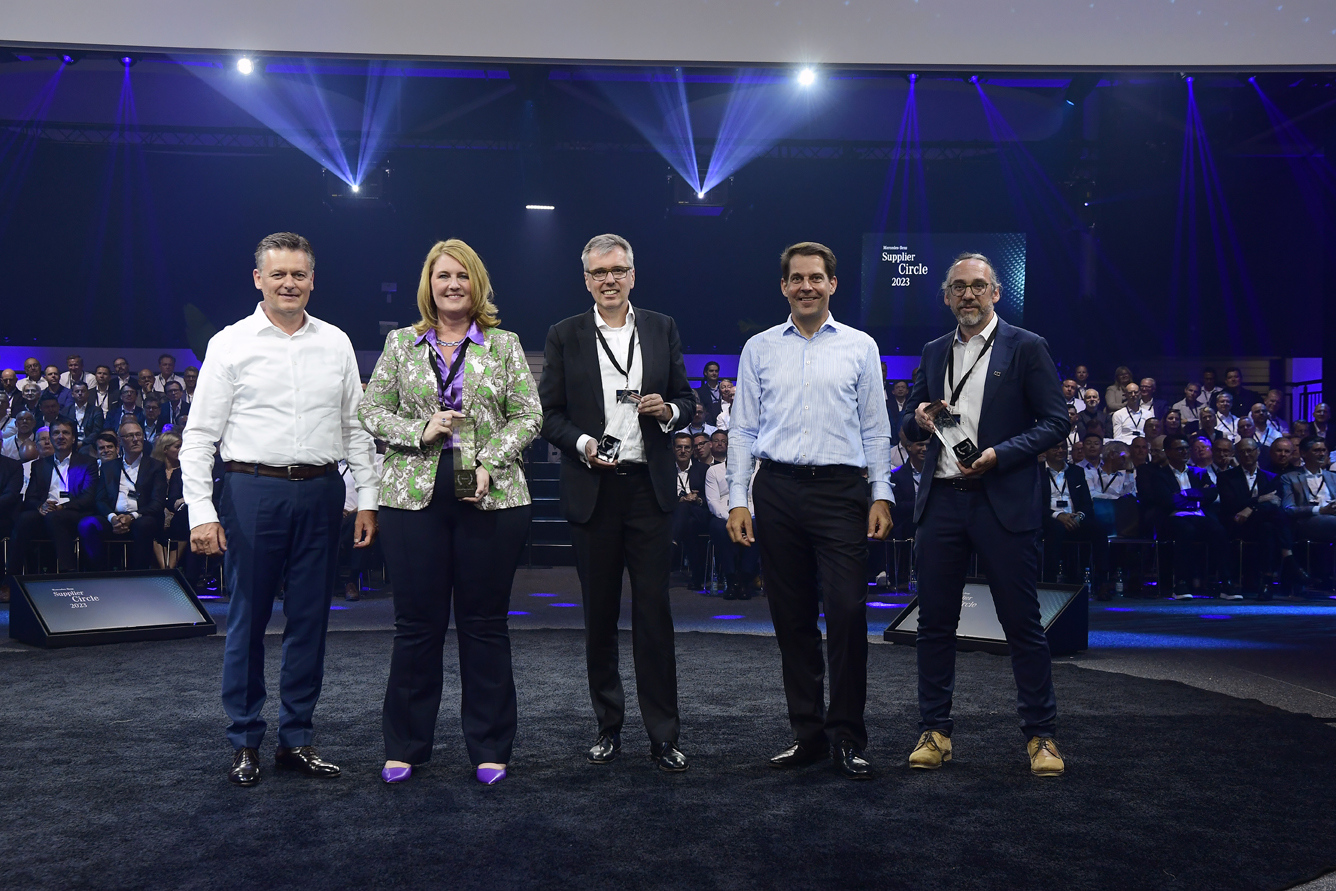 Andreas Burkhart and Gunnar Güthenke honored the winners in the Innovation category: Amazon Web Services, Inc. (IPS), ZF Friedrichshafen AG (MP) and Dolby Laboratories, Inc. (MP)
f.l.t.r.: Andreas Burkhart, Head of IPS, Wendy Bauer, AWS General Manager Automotive and Manufacturing, Dr. Holger Klein, Chairman of the Board of Management and CEO ZF Group, Gunnar Güthenke, Head of MP, Andreas Ehret, Sr. Director Automotive & General Manager Dolby Germany GmbH
ZF Friedrichshafen AG: Winner of the Innovation category for MP
ZF Friedrichshafen in specific his division car chassis technology has developed a unique selling point innovation with its new rear axle steering system for the Mercedes-Benz S-Class and the EQS. The rear wheels are actively steered by up to 10°: the absolute benchmark. The resulting vastly improved vehicle dynamics and maneuverability, as well as the reduced turning circle, make this innovation tangible for drivers in many situations, simplifying parking for large vehicles in tight spaces. As idea providers and initiators, ZF and Mercedes-Benz are setting new standards with this technology, demonstrating their innovative strength for groundbreaking solutions that offer customers unique driving experiences.

Dolby Laboratories, Inc.: Winner of the Innovation category for MP
Dolby Laboratories has established itself as a very innovative partner, and Dolby Atmos is impressive proof of this. This innovation achieves an immersive 3D sound giving occupants the feeling of being in the middle of the action, due to the way the sound fills the space. Dolby is thus raising the listening experience in Mercedes-Benz vehicles to a new level and strengthening attractiveness of our vehicles with this sonic masterpiece: Mercedes-Benz is the worldwide first in the premium and luxury segment to integrate Dolby Atmos in vehicles. Dolby's strong mindset is also supporting future developments in conjunction with the MB.OS. strategy. Our thanks go to Dolby Laboratories and all those who made Dolby Atmos a reality in Mercedes-Benz vehicles.
Amazon Web Services, Inc.: Winner of the Innovation category for IPS
Amazon Web Services: serverless technology leader and one of Mercedes-Benz's strategic cloud partner. Driving the transformation of Mercedes-Benz's IT infrastructure, AWS is helping to centralize all Mercedes-Benz aftersales applications on the aftersales cloud platform. State-of-the art technology and standardization guarantee that all applications are available virtually 100% of the time. Fast, compatible, infinitely scalable: AWS' innovative development approach enables a speedy international rollout and significantly reduces the time to market to less than 3 months! Since going live in 2022 after a 6-month development period, more than 100 applications have been already migrated to the aftersales platform worldwide!

Supplier Award Quality
Andreas Burkhart and Gunnar Güthenke award the beaming winners in the Quality category: Capgemini Deutschland GmbH (IPS) and KIRCHHOFF Automotive GmbH (MP)
f.l.t.r.: Gunnar Güthenke, Head of MP, J. Wolfgang Kirchhoff, Managing Partner & CEO KIRCHHOFF Automotive GmbH, Henrik Ljungström, Head of Business Unit Germany Capgemini, Andreas Burkhart, Head of IPS
KIRCHHOFF Automotive GmbH: Winner of the Quality category for MP
KIRCHHOFF Automotive GmbH has been supplying vehicle components and systems including body parts in outstanding quality for many years. The last 24 months, when it succeeded in achieving 0 ppm (parts per million), is proof of this and means that no parts supplied by KIRCHHOFF were installed with defects. Exemplary advanced quality planning and preventive industrialization are crucial for this exceptional level of quality. Both use state-of-the art technologies, including virtual production simulations, enabling identification and elimination of potential error sources early on, so faulty parts supplied can also be indicated before vehicle production begins.

Capgemini Deutschland GmbH: Winner of the Quality category for IPS
Capgemini provides benchmark digital solutions for highly-automated driving and sets new standards with synthetic data generation. Over the last two years, Capgemini helped to create millions of data sets. Synthetic data are generated artificially. They result from simulations and are used to train AI-modules of intelligent interior assistance systems. With less than five errors in integration tests over the last two years, Capgemini delivers the best logic and algorithms and they have even reduced data-processing time by impressive 98% compared to manual data generation! Capgemini's reliable, highly-configurable, fast, and cost-effective data sets are a key contribution to the MB.OS. platform and play a major role in revolutionizing the in-car digital experience of Mercedes-Benz.

Supplier Award Sustainability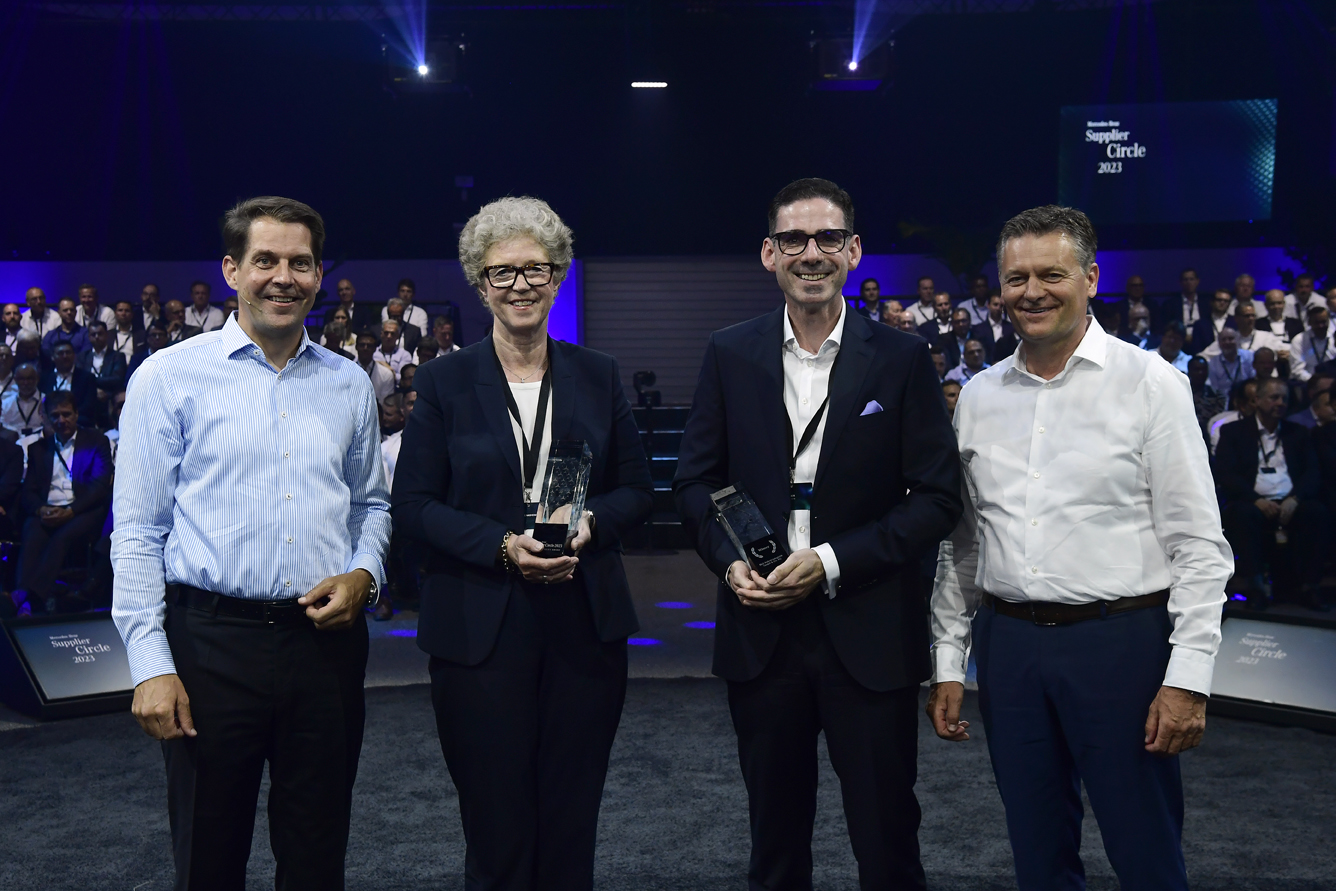 The prestigious trophy in the Sustainability category went to: BLG Industrielogistik GmbH & Co. KG (IPS) and Hydro Aluminium a.s. (MP)
f.l.t.r.: Gunnar Güthenke, Head of MP, Hilde Merete Aasheim, President & CEO Hydro Aluminium, Matthias Magnor, Member of the Executive Board – Chief Operating Officer BLG, Andreas Burkhart, Head of IPS
Hydro Aluminium a.s.: Winner of the Sustainability category for MP
Hydro Aluminium, a global leader in the aluminum and energy industry has already been supplying Mercedes-Benz with aluminum since 2019, which comes with a large CO2 reduction due to the use of green electricity in electrolysis. As part of a technology partnership, a further milestone was achieved this year thanks to Hydro's high level of commitment: The EQE and EQS electric models use aluminum with almost 70 percent CO₂ reduction compared to the European average and at least 25 percent post-consumer recycled content, which at the same time meets high quality standards. Together, we are committed to working on piloting very low-CO2 aluminum by 2030 and are pleased to have found a strong partner in Hydro for the just decarbonization of our aluminum supply chain.

BLG Industrielogistik GmbH & Co. KG: Winner of the Sustainability category for IPS
A leader in the CO2-intensive logistics industry, BLG is also sustainability pioneer! Net-carbon neutrality by 2030 as part of its sustainability strategy will help BLG meet its goal for Ambition 2039 years in advance. The ecological logistics center C3 Bremen bundles the logistics activities for Mercedes-Benz's Completely Knocked Down production network. Innovative technologies and a comprehensive energy concept make it a milestone of climate protection. Covering an impressive area of 80,000 square meters, the plant generates its own power from Germany's largest contiguous roof-mounted photovoltaic system. It generates 8.4 million kilowatt hours of solar power per year - enough electricity for 2,400 households! After 12 months, the self-generated electricity can even contribute to a positive CO2 balance.